Beechwood Nursing Home "Welcome Home" Expansion
Getzville, NY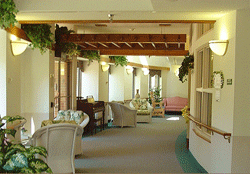 A major renovation and expansion of an occupied facility. This project included interior and exterior lighting, a new service entrance and padmount transformer, significant power distribution upgrades, expansions, and cutovers, and general purpose and specialty equipment circuiting. Also included were an upgraded fire alarm system, wander guard system, and a natural gas generator.
Challenges
Beyond the typical issues expected on any project of this magnitude, significant coordination with the owner and staff was necessary to limit the impact on their day to day operations. Additionally, as this was a fully occupied and accredited facility, NYS Department of Health compliance had to be painstakingly maintained throughout the duration of the project.
Highlights
The electrical portion of this project approached $1M.
A 2,500 ampere, 208Y/120 volt, 3 phase, 4 wire underground electrical service entrance was installed complete with new padmount transformer, underground service lateral, and expanded power distribution system.
Critical transition components were designed in-house and custom fabricated. This increased productivity while exponentially limiting cutovers and downtime.
A new 125 kW, 208Y/120 volt, 3 phase, 4 wire natural gas generator was installed and the cutover of an existing 100 kW, 208Y/120 volt, 3 phase, 4 wire generator was also performed.
Additional Information